A few of my music teacher friends and I are having a #welovemusic sale to kick off the month of February.
If you head over to TPT on Friday and search the hashtag #welovemusic, you'll find a bunch of great $2 deals. My store will also be 20% off on Friday and Saturday.
Click the picture to see my #welovemusic product: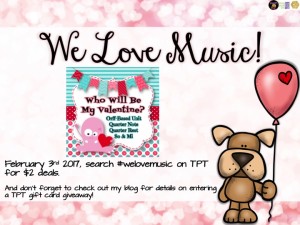 We are also giving away four $5 gift cards to TPT. Each seller has a contest to enter… be sure to check out the links at the bottom of this post to enter my friends' contests too!
Thank you for all your support! I hope you love my Valentine So-Mi file as much as my kiddos do!